When you book a hotel stay at Wakeup Aarhus, M.P. Bruuns Gade, you can look forward to a stay in the second largest city of Denmark, which offers a wide range of experiences for children and adults.
Our central location at M.P. Bruuns Gade provides the perfect settings for an exciting stay in the city centre with everything just around the corner. In Aarhus, you will find world-class museums, high-level gastronomy, lots of shopping opportunities and last but not least several recreational areas ranging from forests to harbour fronts and beaches.
At Wakeup Aarhus, we focus on giving you the best premises for a nice visit to Aarhus, no matter if you are planning a family trip, a romantic getaway or business meetings in the city.
Cultural experiences and attractions in Aarhus
As European Capital of Culture 2017, Aarhus offers a wealth of cultural experiences with exhibitions, events and performances. Most of the top attractions are within walking distance.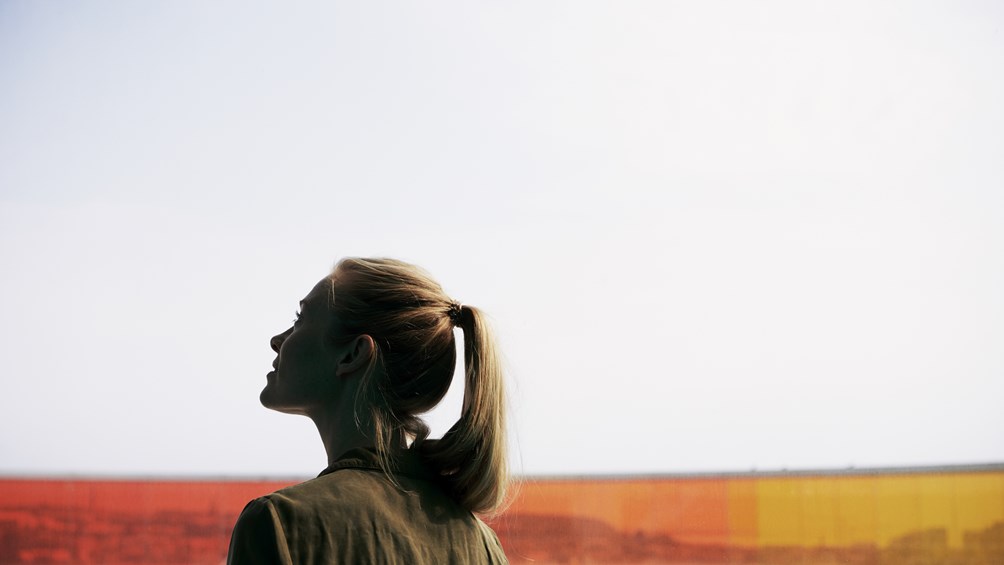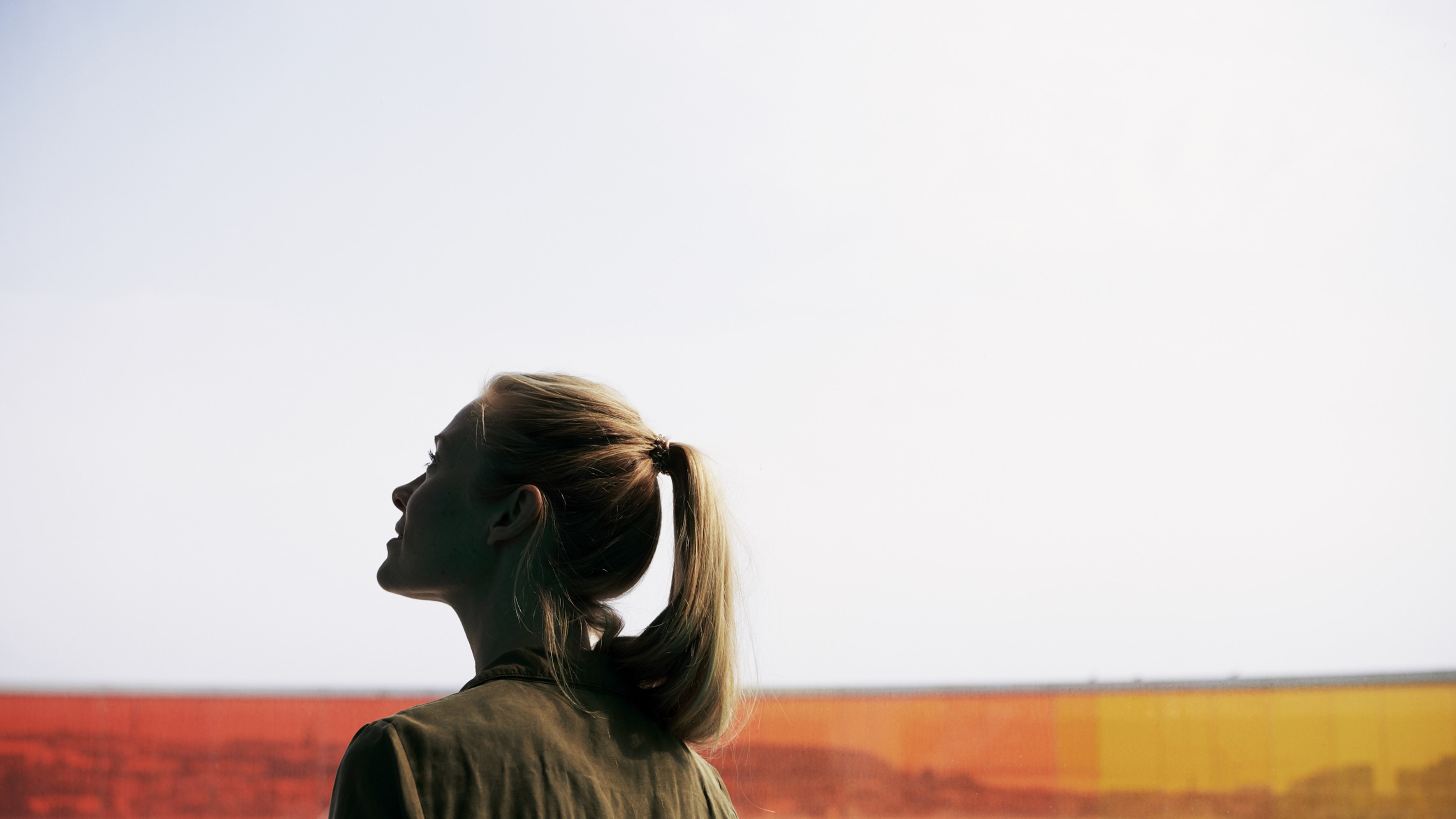 ARoS
A world famous museum located just 900 meters from Wakeup Aarhus. ARoS is an exciting experience for both children and adults and famous for its iconic rainbow "Your rainbow panorama" at the top of the museum, created by the artist Olafur Eliasson. It gives a fantastic view of Aarhus in the colors of the rainbow. In addition to exhibitions, ARoS also offers a café and orangery, where you, whether you are a guest at the museum or just passing by, can enjoy a nice meal or just a coffee in beautiful surroundings.
Musikhuset Aarhus (Music House)
The music house is in the immediate area close to the Wakeup Hotel, and offers exciting performances all year round. Here you can experience everything from pop concerts to opera with both local and international stars. Architecturally, Musikhuset Aarhus is also an exciting place, which with its 2,000 m2 large glass foyer and the surrounding green park area creates a fantastic atmosphere. The music house also has a nice restaurant and cafe, johan r. You can also experience many free events both indoors and outdoors.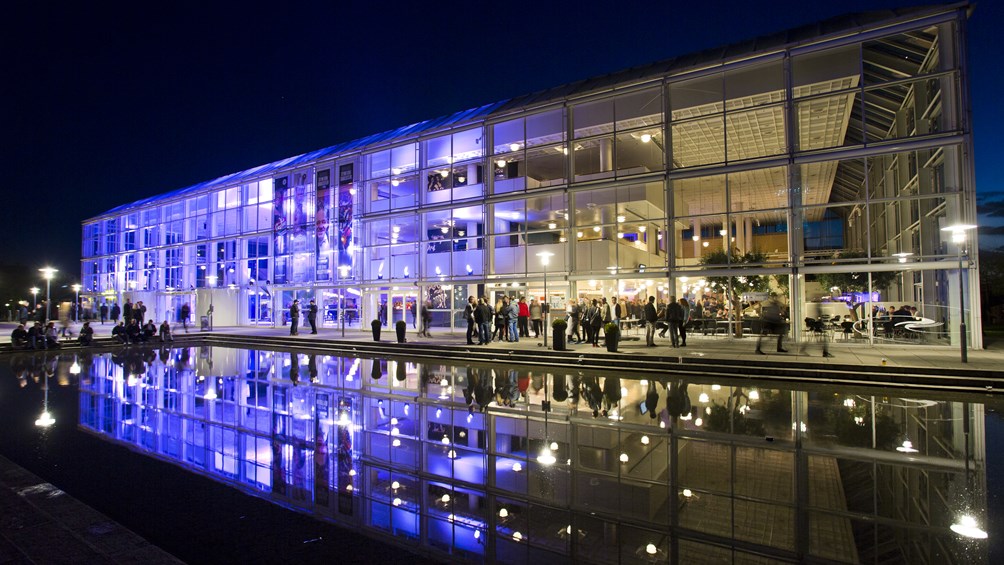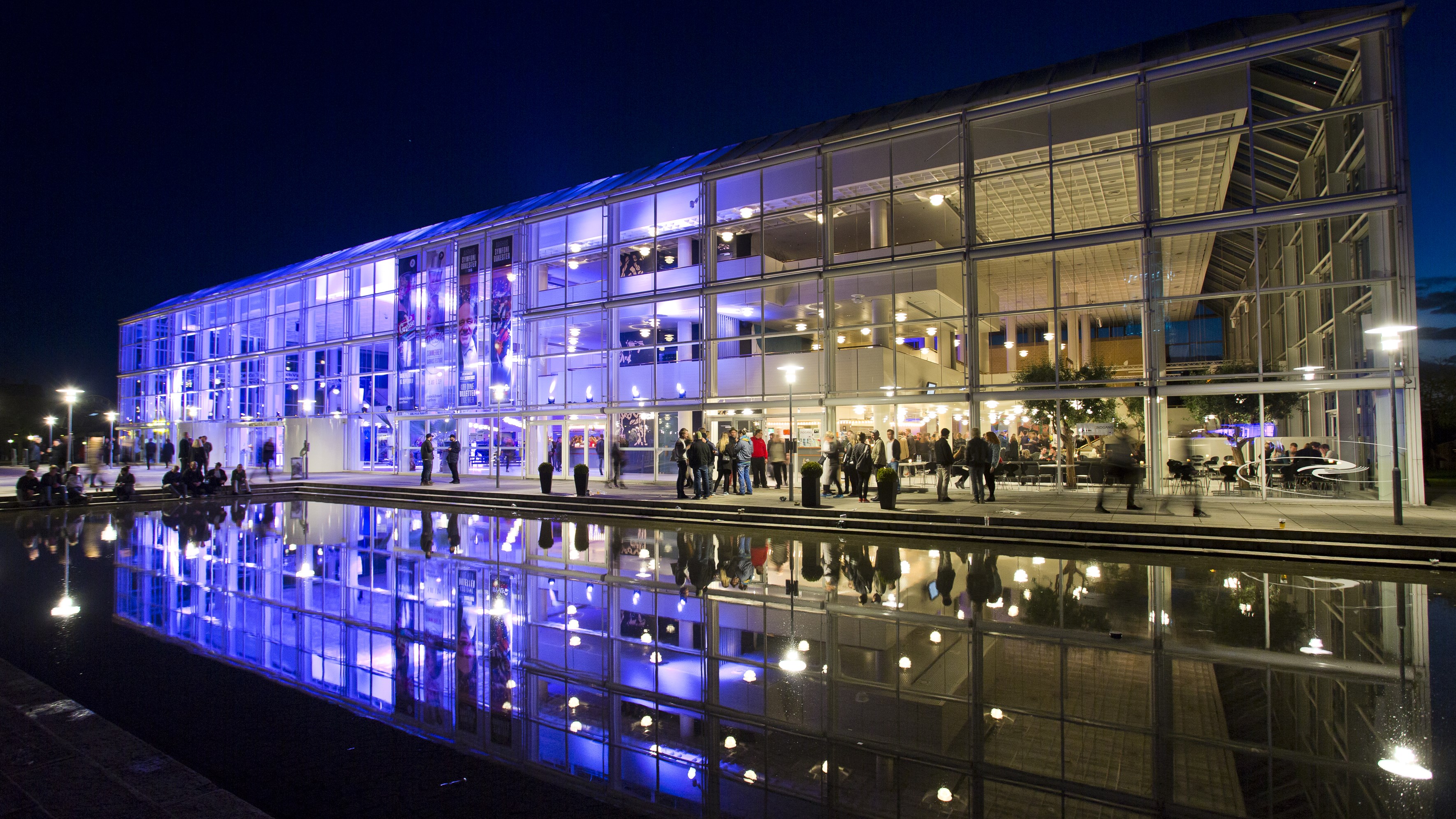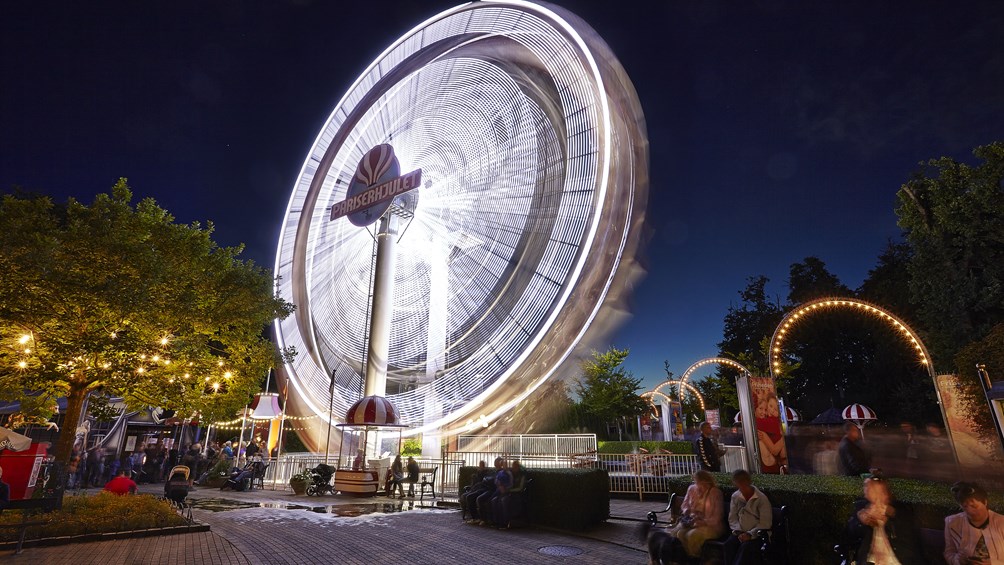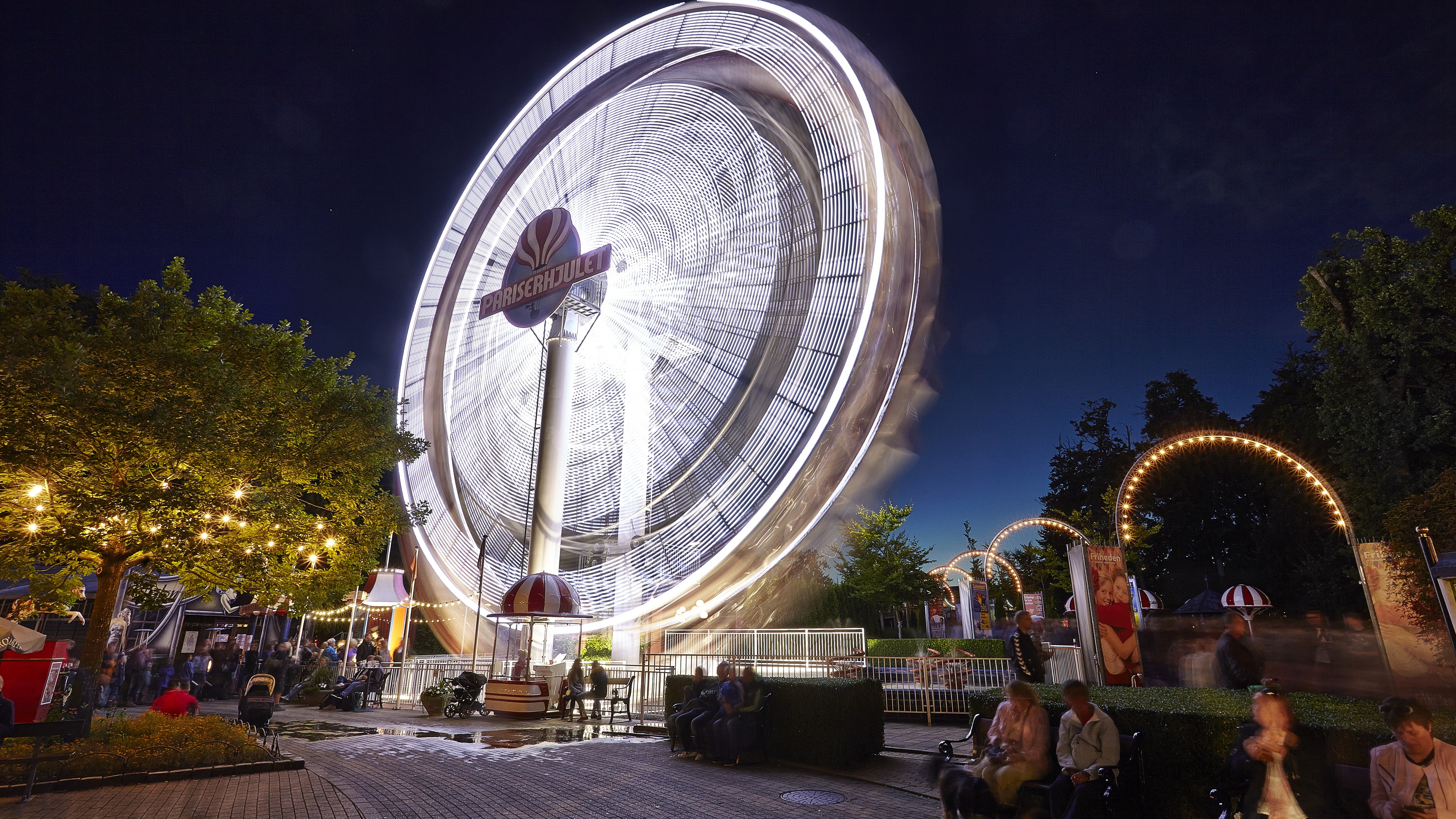 Tivoli Friheden
A popular amusement park in Aarhus, located within walking distance of the city center with an idyllic location in Marselisborg Forest. With 40 different rides, playgrounds, stalls, etc. - then the entertainment is guaranteed for the rest of the day! Tivoli Friheden is located about 2 km away from Wakeup Aarhus, where you can take the train or car and be there in no time. The park has had a major change in recent years, so the park appears inviting and with lots of flowers and fountains. The possibilities are many in Tivoli Friheden. You can buy "All Inclusive", where there is entrance, tour band, buffet, voucher for soft ice cream, popcorn, candyfloss or coffee and a voucher for games and stalls included in the price. You are also welcome to bring your own food and eat in the "picnic areas". There are several barbecue areas where you can also enjoy you own food. You can bring the whole family to an eventful day and there will be something to offer for everyone.
Den Gamle By (The Old Town)
An exciting time travel with shops, backyards and workshops as well as buildings dating back to the 16th century. 20-minute walk from Wakup Aarhus takes you to the world-famous Specialty Museum. Meet people dressed in the clothes of the time, chopping firewood, fetching water and cooking. One can also interact with them. The Old Town provides an insight into the Denmark in the 16th century and receives approcximately 500,00 visitors annually. The district is especially cozy to visit at Christmas time, where it is decorated with Christmas decorations from the old days and there is a special adventurous atmosphere.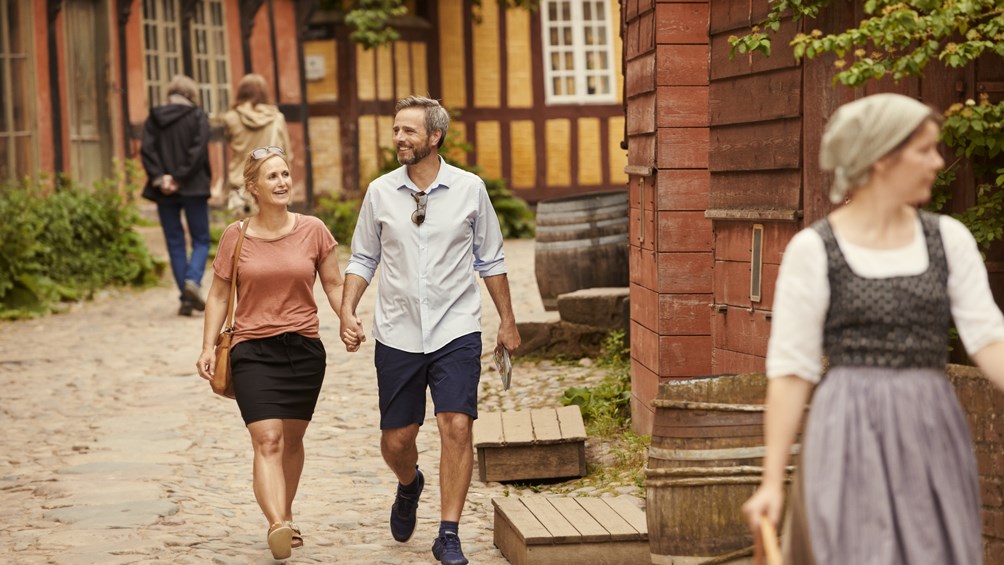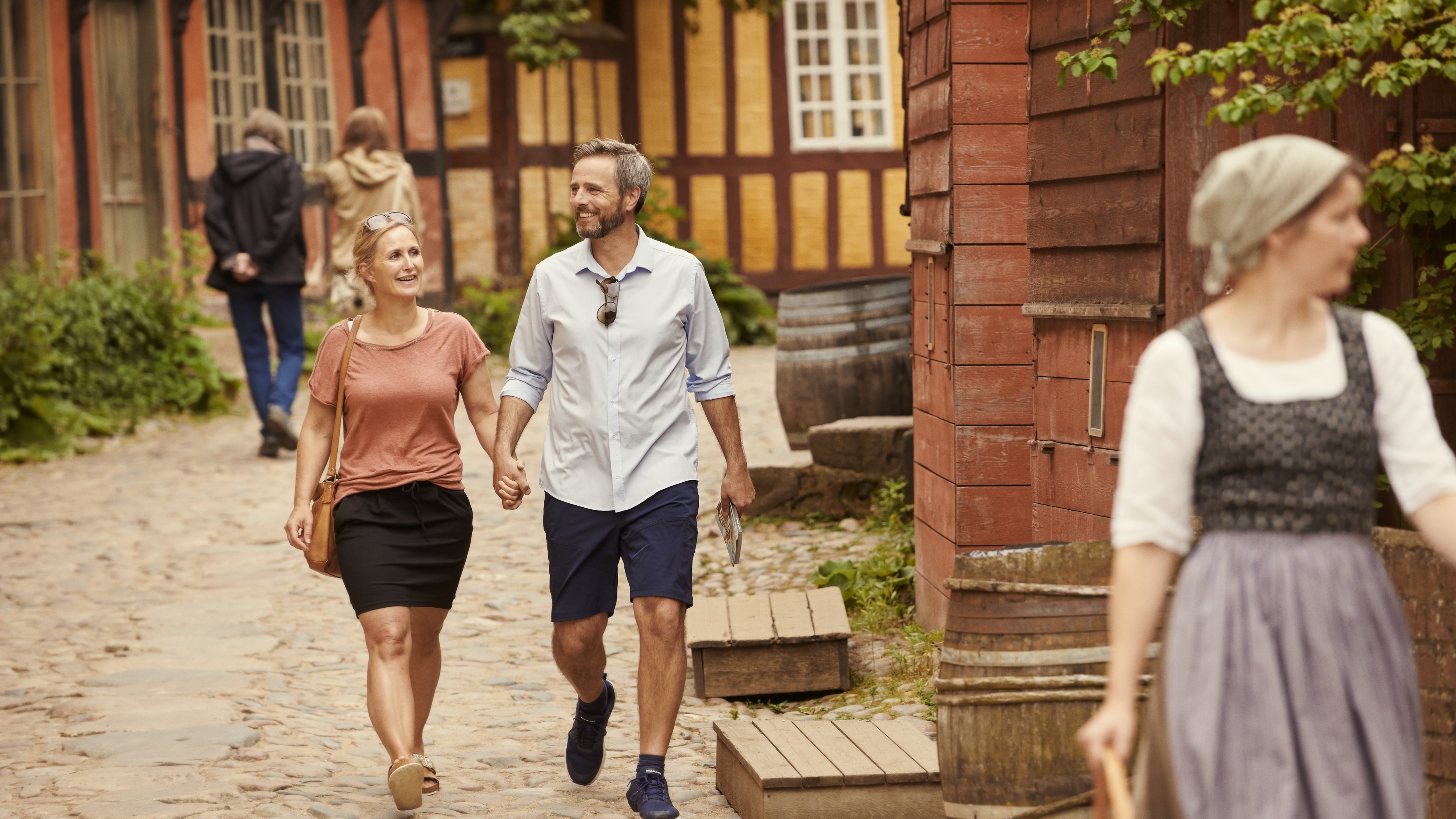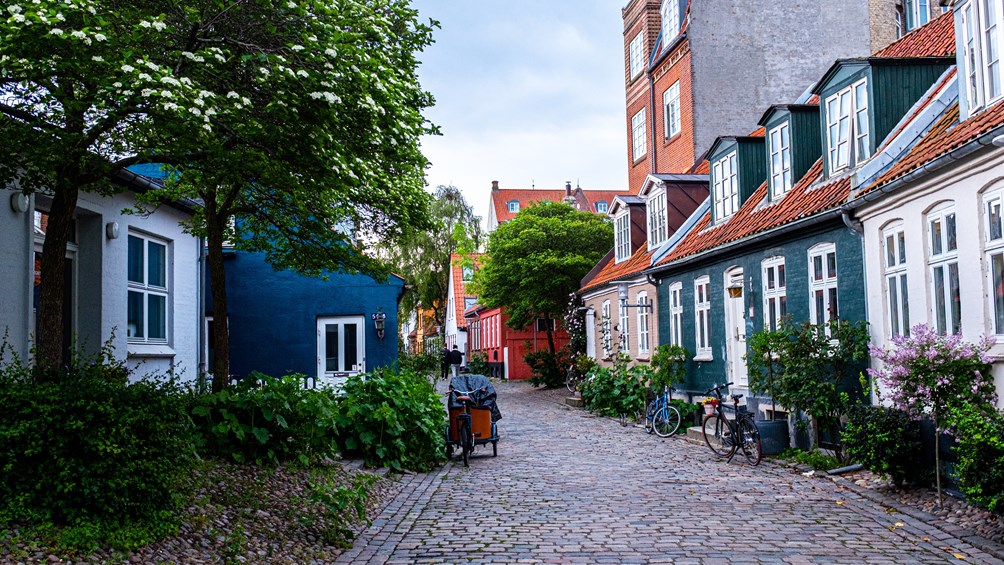 Guided city walk
If you want to experience the local ara without too much planning on your own, a guided city walk is a very good option. It allows you to learn some local history and get a personal experience of the city and its many exciting areas, attractions and museums. There are several opportunities to be guided around the City of Smiles. Both Guideservice Denmark, AarhusGuiderne and Culture Walk have local guides in Aarhus and offer many different and individual city walks.
Moesgaard Museum (MOMU)
The museum has received great international attention due to its exhibitions, architecture and not least scenic surroundings. MOMU is located in a scenic area with views of both sea and forest. The museum has several cozy hiking trails in the area, including the famous "Ancient Trail", which is marked by white stones with a red spot and leads you through some of East Jutland's most beautiful nature. On the path, you will also meet grave monuments and reconstructions of houses from antiquity.
Wakeup Aarhus, M.P. Bruuns Gade

Wakeup Aarhus, Bruunsgade
Cool and modern budget hotel in Aarhus – close to shopping and the central station.
Read more
Parks and green areas in Aarhus
Aarhus has several green parks where you can relax and enjoy the fresh air. Closest to Wakeup Aarhus is Rådhusparken, which is close to Aarhus City Hall and the art museum ARoS. Here you can see a small selection.
Botanical Garden - the largest park in Aarhus city center
Rådhusparken - located in the middle of Aarhus city center, close to Wakeup Aarhus. A small green oasis.
Marienlyst Park - close to Aarhus University Hospital. The large park offers both forest and golf course.
Marselisborg Slotspark - provides the opportunity to go for a walk in the Queen's private garden, when the Royal Family is not resident.
Mindeparken - the park is idyllically located by both the water and the forest.
Lisbjerg Skov - offers 5 large shelters where you can spend the night - so bring your sleeping bag and sleeping pad, and sleep in the open nature in Lisbjerg Skov.
The beach at Åkrogen - a popular sandy beach, where there are plenty of opportunities to be active, both on the water and on the beach itself. A few years ago, Åkrogen was selected by one of the largest newspapers in Toronto "The Globe and Mail" to be among one of the 10 best beaches in the world.
Cinema and Theater
Watching a movie is always nice and there are plenty of opportunities in Aarhus. You can visit the cinemas: Øst for Paradis, Nordisk Film Biografer, or CinemaxX . CimemaxX is located on the same street as Wakeup Aarhus.
You will as well find at large selection of theaters in Aarhus, depending which kind of performance you are in the mood for. Here are a few of the options in Aarhus C.
Aarhus Theater - Denmark's largest regional stage.
Teatret Svalegangen - Stories close to you and your world.
Theater Katapult - The writing theater with a focus on the text that forms the basis of the performing art.
Teatret Gruppe 38 - The city's intimate scene.